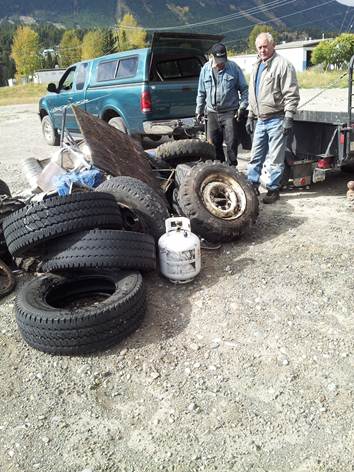 Elk River Alliance, true to its name, has formed many amazing partnerships over the years with groups with whom working collaboratively has achieved many positive outcomes.
A clear example is the connection made with the Elkford ATV Club through mutual representation on the Teck Coal Elk Valley Communities of Interest Advisory Initiative Steering Committee. When the opportunity arose for the Elkford ATV Club to assist with the 3rd, then 4th, Elk River Shoreline Cleanup, initiated by Elk River Alliance, Gordon Galloway and his fellow riders were nothing short of amazing. This year, in the first ever watershed-wide shoreline cleanup, the Elkford ATV club adopted 50 kms of the Elk River to care for and, in doing so, pulled three car bodies, 30 tires and two trailers full of garbage from the water.
The Fernie Christian Youth Group did an admirable job cleaning up the Silver Springs Lake area while Wildsight Elk Valley Branch members and numerous individuals, both adult and youth, worked diligently to clean up shorelines around Fernie and Sparwood.
A total of 72 kms of shoreline were made safer for animals living in or near the Elk River as well as more beautiful for people who use the waters for sport, recreation and livelihoods.
Alliances, partnerships, collaborations – call them what you will – are ways for individuals and groups to more efficiently achieve mutual goals and strengthen communities while, in most cases, having an enormous amount of fun and camaraderie along the way!
NOTE: Picture shows some of the trash collected by the Elkford ATV Club